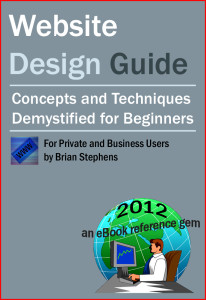 For many people the thought of getting a website published for themselves or perhaps to represent a small business they are operating looks fraught with potential technical problems. And let's not beat about the bush, there are technical aspects to designing a website that can be quiet daunting for a non-technical person or sometimes even for a relatively competent technical person.
That is why there are people that can be employed to take on the task on your behalf and at a relatively low cost. Trouble is that you do need to have an idea of what is required and to know what it takes to put together a website that actually functions and, if you want it to, gets found by search engines.
This Website Design Guide does exactly that, but in a language that is jargon free and easy to understand. Probably the easiest way of describing what topics the book covers is by listing the Table of Contents.
Part one
What are the costs of designing a website?
What do you want your website to do for you?
The way it looks – style
What it does – functionality?
Finding your way around the website
How to make Google your best friend – on page optimisation
Ensuring a website fits all standard computer screens
How to ensure you can update your own content easily
Maintaining a uniform look
Using flexible web pages to make adding content easier
Registering a domain name
Hosting your website
How Google ranks your website – off-page search engine optimization
Website performance
Benefits of a well-designed website
Briefing a designer
Part two
Website costs from a designer perspective
Website or blog?
Taking a static web design approach
Using flexible web pages to make adding content easier
Optimising website pages – the technical perspective
Organising your information for your website
How to put your website on the Internet
Reference Information
Part one is essentially for anyone that wants to understand website design in relatively simple terms, so that they can discuss their requirements with a website designer.
Part Two is more geared to the have a go technically competent person that wants to get his hands dirty by designing his own website. This can be done by either using a combination of HTML and CSS to create a very functional and easy to maintain static website or by utilising the WordPress blogging platform to create a blog or in fact a static website (this is very feasible using WordPress) adopting a content management system approach.
Obviously the second part is much more technically challenging and involves going through a learning process to familiarize yourself with the techniques needed. But there are references to some excellent training tutorials and techniques that illustrate the best approaches to creating a fluid website design that is easy to update and maintain.
Clearly I think that for anyone, who needs a website, this guide is invaluable. But then I did write it so I guess I may be a little biased 🙂 I am however prepared to take on board the opinions of others, so if anyone would like to review the book and let me know what they think or in fact if you would like a copy for free in exchange for an honest review, let me know via the contact us page.
You can purchase the book from Amazon.co.uk and Amazon.com . Or if you use any of the other Amazon sites then just change the extension to suit your preferred site.
The book is also available in multiple formats and other main distributors of eBooks, visit the Website Design Guide page on eBookIssues for all the other options.